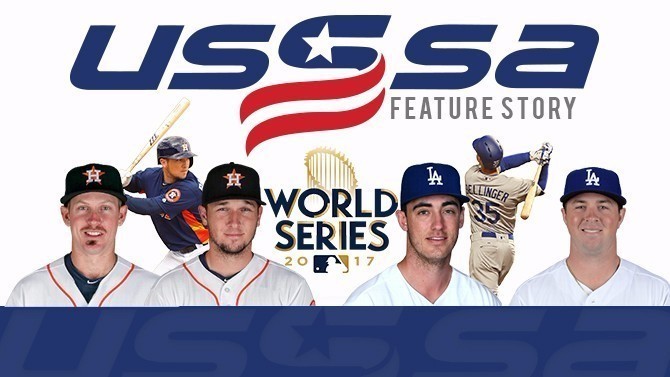 Viera, FL.- October 27, 2017- The Major League Baseball World Series has begun and it's definitely been a fun one to watch. The Los Angeles Dodgers and Houston Astros are comprised of some of the best players currently in the game and are competing for the Commissioner's Trophy, the most highly coveted team award in Major League Baseball. The athletes in the league all have grassroots leading them back to when they played baseball as children. Twelve of the players competing in the 2017 World Series have played in USSSA sanctioned tournaments at some point in their careers.

Player spotlight:

Cody Bellinger: The starting first baseman for the LA Dodgers is originally from Arizona. He competed in youth baseball tournaments with USSSA from 2007- 2013. Overall, he participated in 39 USSSA tournaments throughout his career and placed 1st in 18 of them. Bellinger was committed to play baseball at the University of Oregon, but chose to pursue his professional baseball career when he was selected in the 4th round of the 2013 MLB draft by the Los Angeles Dodgers. The current big leaguer made his MLB debut on April 25, 2017 and is currently hitting .267 with 39 homeruns (tying the National League rookie record), as well as having 97 RBI.

Kyle Farmer: A current player on the LA Dodgers roster who is originally from North Carolina, Farmer made his Major League Debut on July 28, 2017. He attended the University of Georgia where he played shortstop, hitting .308. He was drafted out of college in the eighth round of the 2013 MLB draft. Farmer grew up playing USSSA youth baseball tournaments from 2002 to 2007. Farmer competed in a total of 11 USSSA tournaments and placed 1st in 6 of them.

Alex Bregman: The current starting third baseman for the Houston Astros was born in Albuquerque, New Mexico. He attended Louisiana State University after declining his first draft opportunity in 2012 when he was chosen late in the 1st round. He accepted his MLB offer 3 years later when he was selected as the Houston Astros 2nd overall draft pick in 2015. The third baseman competed in USSSA tournaments from 2006-2008 where he played in 12 tournaments and placed 1st in one.

Chris Devenski: The California native was a pitcher for California State University, Fullerton. He made his Major League Debut on April 8, 2016 for the Houston Astros. During his childhood, Devenski competed in USSSA youth baseball tournaments in 2004 and 2005, playing in a total of 5 tournaments.

USSSA offers athletic opportunities for athletes of all ages and skill levels. The youth baseball program has had a strong history filled with plenty of talent throughout the years. It is no surprise that several athletes competing in this year's Major League World Series played USSSA at some point throughout their career.

About USSSA:
USSSA is headquartered in Brevard County, Florida. USSSA is the World's Largest Multi-sport Athletic Organization. Founded in 1968, USSSA has grown to over 3.7 million participants, competing in 13 nationally sanctioned sports including Baseball, Fastpitch, Slow Pitch, Karate, Basketball, Soccer and more! For more information on USSSA and to register your team visit USSSA.com.